18.02.23 19h
GEBOREN WERDEN WAR ARBEIT GENUG
live:
MAKIMONO
(shoegaze)
DJ Alegria
(nofun)
live: ADERLASS
(pulsating destructed blackmetal / surf instrumentals)
OneInAßillion
(trial + error synth)
FREEPHILIPP
(bleeps + blurps)
FREUND FYNN
(techno + industrial)
SICK SAD SUN
(uncanny favorites)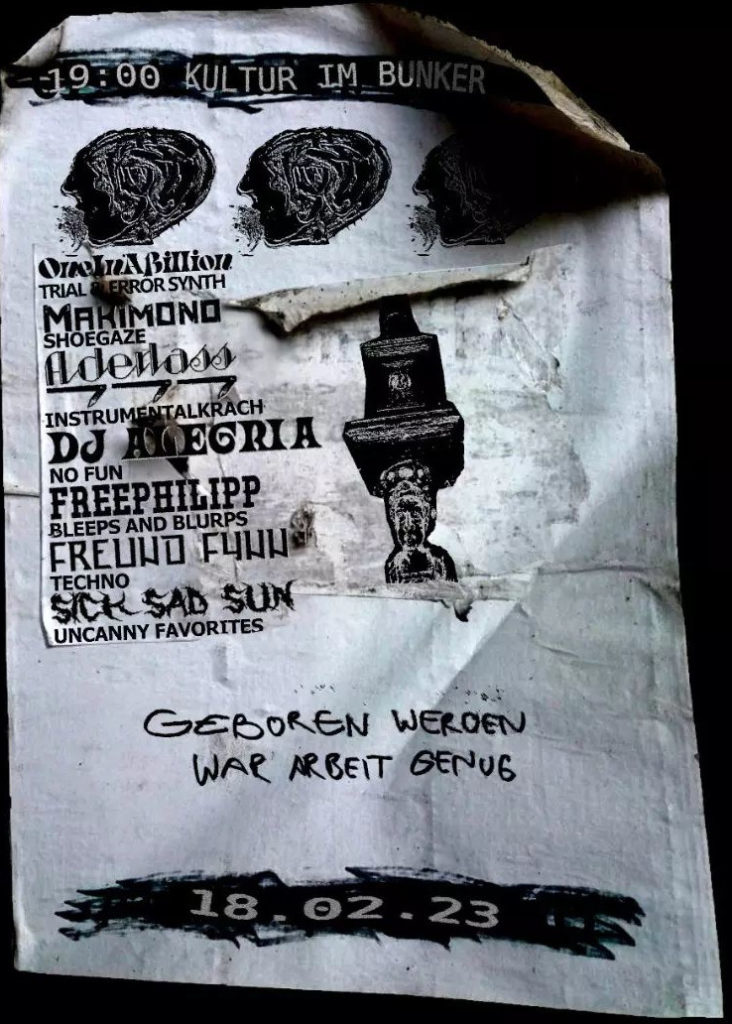 Makimono will blur the concrete walls with their shoegaze textures in a live concert.
Fabulous Dj Alegria will descend once more from the cosmic void or a very special set with the beautiful, danceable and joyful music of artists such as Coil, Poison Ruin and Have A Nice Life. All joy, zero fun.
And then in this jolly modus we go on, sinking into Aderlass' pulsating and destructed black metal and surf instrumental Krach. Premiere of this new project!
And yet another premiere is waiting – the pocket operations of OneInAßillion serve as a vehicle for a fractated synth ride.
In another special DJ set, Freephilipp (the sine wave surfer) presents the magic of weightless sounds and odd structures, before Freund Fynn leans over to heavy and danceable electronic music.
Instead of a moon, this night Sick Sad Sun shines a light on the beauty of the uncanny – sounds for the heart.